There are six stages of an effective recruitment funnel. Here's a logical, comprehensive picture of the strategies recruiters can use to secure the best people.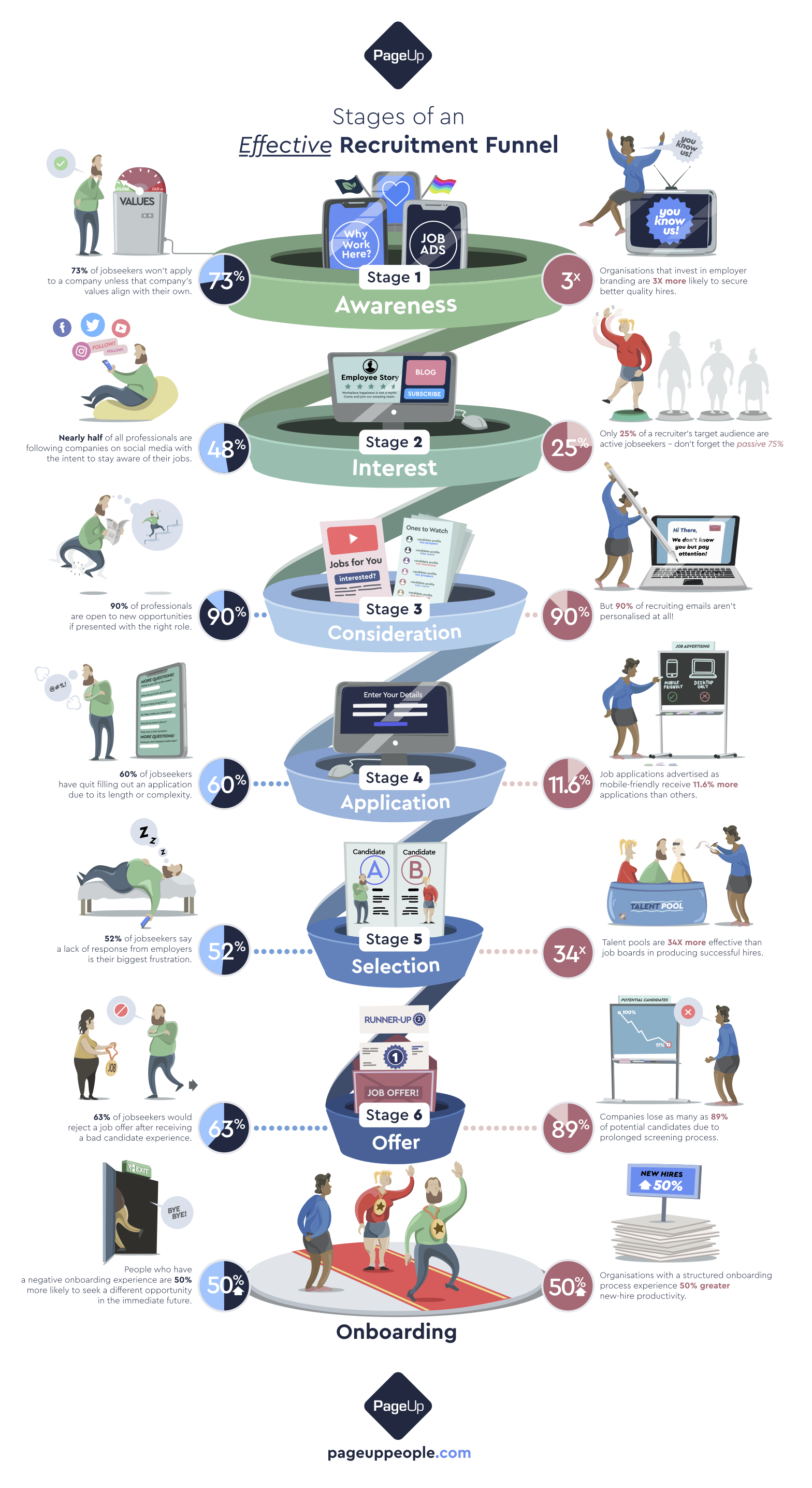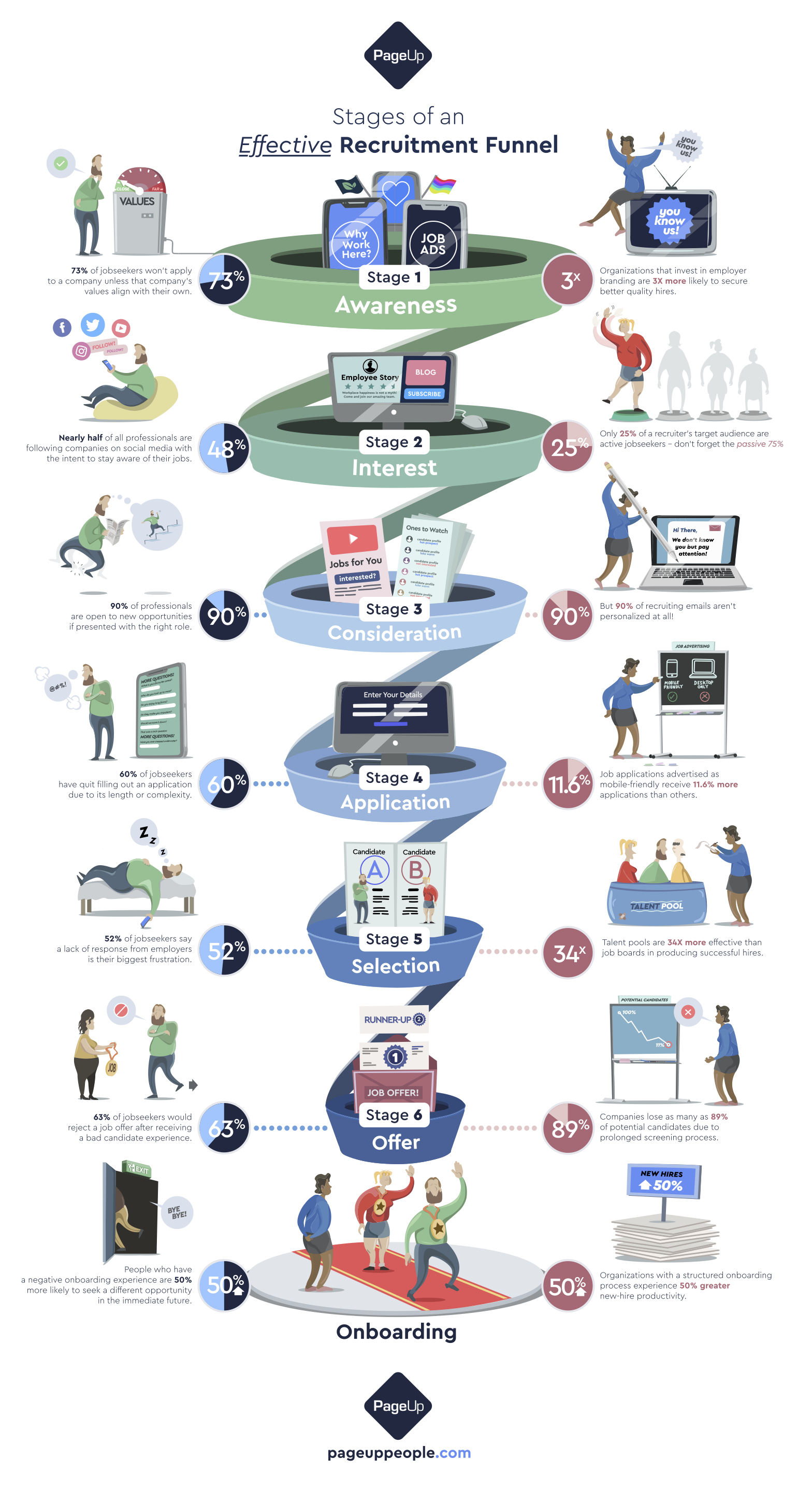 Stage 1: Awareness
This first stage of the recruitment funnel is where candidates first become aware of your employer brand. In today's highly competitive job market, you need to articulate your company's unique EVP and stay front of mind. You also need a combination of active and passive sourcing strategies.
Think paid and organic job ads, careers site pages, 'Why Work Here?' and company values statements, video content, targeted landing pages for key talent segments, employer reviews (sites like Glassdoor) and more.
Stage 2: Interest
Now, let's talk about nurturing candidates. You've probably heard marketers talk about lead nurturing. Well, you can use the same tactics to target unique candidate personas as you scale your recruitment strategy.
That's why the second stage of the recruitment funnel is so important. It's where you use personalisedpersonalized content to capture candidate interest. Some examples include custom calls to action, job opportunities, event registrations, projects, and other career-related information.
Stage 3: Consideration
Here's where the nurturing becomes more targeted to better your chances of converting talent. Of course, that doesn't mean you have to start reaching out to candidates left, right and centre. Real-time event triggers allow you to instantly reach and engage with candidates in the moments that count most.
Custom calls to action, direct sourcing, recruiter outreach, and an automated list of 'candidates to watch' are possible today with modern candidate relationship management (CRM) and automation software.
Stage 4: Application
Now that you've led quality candidates on a journey through content and made your direct pitch, it's time to make the application process as quick and easy as possible.
OptimisingOptimizing your application process for mobile is a must. And keeping the forms simple (and screening questions relevant) will be the key to ensuring each candidate moves through the process quickly and has a positive experience. Remember: if you're not doing it right, someone else will.
Stage 5: Selection
Stage five of the recruitment funnel is where you narrow down your talent pool to a select group of potential hires and screen for the right skills.
Tech-enabled recommendations can help you screen for specific skills and flag high-potential candidates. But this is not the time to go cold or 'ghost' candidates!
Instead, give candidates the rockstar treatment while they wait. Recruiters can save valuable time by using automation software to deliver timely and fluid progress updates on a candidates' application status.
Stage 6: Offer
Did you know the average offer acceptance rate dropped 3% in 2020 – which means more people are rejecting offers?
At stage six, presenting an offer to the best-fit candidate (before competition snaps them up) is a no-brainer. And for those silver-medallist candidates who just missed out, you can keep them nurtured, engaged and on top of your list for future opportunities.
Beyond the funnel: Onboarding
Finally, now that you've selected your next star hire, it's time to roll out the red carpet with an onboarding experience that gets them up to speed before their first day.
While onboarding doesn't quite fit into the recruitment funnel, it's a critical step for ensuring a successful hiring process. A great onboarding program immerses new starters in your company culture and gives them the tools and information they need to become productive team members that stick around.
To find out more about how you can implement an effective talent acquisition strategy from start to finish – request a demo today.
The post Stages of an effective recruitment funnel appeared first on PageUp.