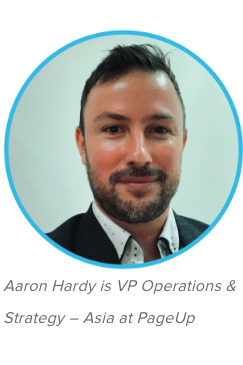 Adapting to rapidly changing environments can seem like a daunting task, and when it comes to talent mobility and recruitment, it's important to acknowledge that there is no 'one size fits all' approach. Hence, the way you run recruitment campaigns could be very different. You may be preparing to hit the ground running when the time comes for you to scale up, or maybe you needed to launch a campaign yesterday because you're already understaffed. For others it may be the right time to apply recruitment campaign thinking for redeployment within your organisation (read more about how to run effective internal mobility campaigns). 
Whatever approach you take, we're here to help. We've put together the following how-to guide to explain how to scale-up recruitment and run effective high volume campaigns from application to onboarding. Even if you're not currently working with PageUp, we think you'll find the following strategies helpful in your recruitment planning.
Managing bulk applications
Managing bulk applications is simple with PageUp's sophisticated, versatile recruitment campaign functionality.  Depending on the roles you're recruiting for, the use case for campaigns can vary significantly. These could include: graduate roles, internships, expressions of interest, evergreen roles (e.g. retail consultants, teaching assistants, drivers), redeployment, and ramp-up (e.g. new store opening, Christmas casuals, emergency services). Each type of campaign has its own nuances, and the PageUp system can be configured based on your specific needs. Below we'll highlight key elements in the PageUp toolkit that will help you manage your campaigns.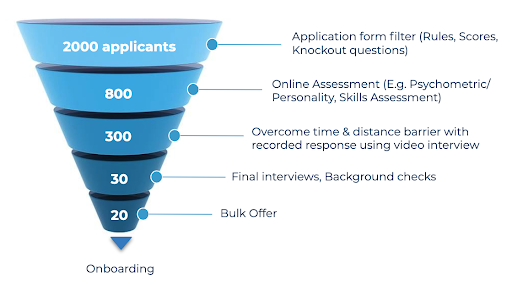 Filtering
When you have a high-volume of applications, the first thing to do is to surface the top applicants right away. Think of this as filtering 1000 applications down to the 50 that you really need to look at when running through your selection process.
Knockout questions
Knockout questions work by filtering out applications that don't fit the mandatory requirements for a role. For example, the position description for your campaign may require that the applicant has a current drivers licence for a certain type of vehicle, or that they are willing to work a certain number of night shifts. You can choose to make the applicant ineligible on the spot (configured in the application form rules) or shift their application to a status that you know to check once you've exhausted other applications.
Selection criteria
When receiving a high number of applications, it's important to have questions that will filter out applicants that may not have the key criteria you're looking for. When helping organisations design their graduate application forms, for example, we recommend asking questions that help to determine whether an applicant has previously worked well in teams. Asking about their membership in sporting teams, group projects, and community service may be proxies for experience you'd expect seasoned professionals to have gained from years in the workforce. Here's a tip: To keep the form clean and simple, consider using conditional questions to ask for more information based on the applicant's responses.
Scoring
When building suitable 'knock-out' questions in your application form it's important to think about how the responses could be scored in order to automate the selection process. Typically this means presenting responses in a way that you can score at different levels. If you're asking about the number of years experience, rather than providing a free text box, you could ask this in a structured manner: Less than 1 year, 1-2 years, 3-5 years, 5 years+
Segmentation
Campaigns can attract applicants with a broad range of skills and experiences. It's therefore important to group applicants by who should review them, the types of roles that they're appropriate for, and add structured data to their profile so they're easy to find when searching through thousands of applications.
Sub-campaigns
Often there are so many applications for a single campaign that multiple recruiters need to participate in the selection process. One simple way to segment the work is to use the 'New application' rule in the application form for the campaign to automatically push the application into a sub-campaign. This is commonly used for graduate campaigns where recruiters look after individual streams. 
Flags & Categories 

Flags are designed as a visual indicator so that a recruiter can quickly see certain qualities about an applicant and their application. As there are a limited number of flags (having too many would defeat the purpose of an easy visual indicator), categories can also be set.'Speaks multiple languages' could be a flag, whereas the individual languages are stored as a category (though if you want a simple way to capture languages you can also use the canned language profile question). The great thing is you can search for both at the database level via Talent Search for proactive sourcing processes later on.
Automation
While we've covered quite a lot of automation already, there are some other areas to consider when processing bulk applications: embedding assessments, and communicating with your applicants to ensure a great candidate experience. Learn more about creating a seamless candidate experience through our suite of marketplace integrations here.
Assessment
One common application rule we see being set is an automated status change to complete an online assessment based on the score that the applicant receives from the application form. It's actually possible to have all applications go through the online assessment – usage generally depends on how the assessments have been purchased from the provider.
Communication
The most common email communication to automate is the acknowledgement of a new application. Rather than a simple one liner, for campaigns this is an opportunity to guide the applicant on what is going to happen next. Outline the process, typical timelines, and key contact points so that the applicant feels informed and supported. This is a great way to build trust with standout candidates, many of whom will be deciding whether they want to work for you based on the quality of their recruitment experience. 
General tips
Make sure you use a question type that makes sense for what you're asking. If you ask a Yes/No question that should be a 'radio button' or a dropdown –

not

a tick box. How will you filter your applications if an applicant ticks both Yes & No!

If you're using eligibility questions to automatically send unsuccessful application emails to applicants, make sure that you comply with any government legislation or guidelines and that you're not discriminating against any minorities (this goes for asking any mandatory questions about demographic data as well).

Use a dropbox for initial emails that are sent automatically by the system. While you should add a more personal touch at later stages in the application process, it's important not to swamp your inboxes when thousands of people may be applying to your campaigns.

Communicate! Ensure that you communicate with your applicants at regular intervals to keep them engaged. You can either do this through application status moves, bulk communication, or by using the automated email workflows in our Recruitment Marketing solution.
Want more?
Read tips from Coles on how they recruit at scale.
Existing customers can learn more about configuring rules and scoring on  application forms on our Knowledge Portal.
The post Running effective recruitment campaigns at-scale: A how-to guide in times of change appeared first on PageUp.