When we released our guide to building a successful DE&I strategy, the response was huge. PrioritisingPrioritizing and improving processes to support diversity, equity and inclusion in recruiting really resonated with our customers. In response, our product team spent some time reflecting on what we do really well (more on this below) and where we have room for improvement. Building on client feedback, we've evolved our previous 'blind recruitment' functionality (relabelled to anonymisedanonymized screening to use more inclusive terminology) to move beyond an 'all or nothing' approach.
Why focus on anonymisedanonymized screening?
AnonymisedAnonymized screening is designed to help broaden the representation of diverse candidates that progress beyond the shortlisting stage. AnonymisingAnonymizing personal information reduces capability assumptions influenced by ethnicity, race, gender, and other sociodemographic factors.
Research tells us that reducing unconscious bias requires conscious intervention. We have two systems of thinking – automatic or intuitive, and conscious reasoning. Our intuitive, automatic thinking accounts for 80 – 90% of what's happening in our brains. It helps us deal with the complexity of everyday life. But the downside is that automatic thinking introduces bias because it relies on intuitive or learntlearned behaviourbehavior. In a hiring cycle this can lead to less diverse candidates moving through selection processes. The conscious reasoning system, on the other hand, is all about active analysis and conscious decision-making. Interventions or "nudges" can promote this system of thinking.
Technology is a facilitator that we can use to nudge users in the right direction. However, we also acknowledge that technology mustn't get in the way of users achieving their goals.
We've made it possible to configure each recruitment process to allow our clients to pilot anonymisedanonymized screening with selected groups within their organisationorganization. To cater to a broader audience, we've added anonymisedanonymized profile components into our applicant progress board (a kanban-style board for hiring managers to shortlist and progress applications).
PageUp provides a series of tools that help reduce bias and facilitate inclusive hiring practices:
At the attraction stage, features include the ability to support dedicated microsites and landing pages and create inclusive job descriptions.

The easy-to-edit content management system allows HR teams to blog about an

organisation

organization

's culture and practices, and highlight diverse employee experiences. 

PageUp provides an out-of-the-box candidate experience that is accessible across all channels for jobseekers with disabilities. 

During the job application process, EEO data is collected through permissions based on field capture to meet applicant tracking requirements and ensure that these metrics are hidden on an individual candidate basis. 

Affirmative action plans can be tied to position descriptions and EEO criteria pre-populated into job requisitions, along with out-of-the-box diversity dashboards and EEO and OFCCP reporting.
We've also taken the approach of 'hide by default' while providing a way for users to access a candidate's name if they really need to.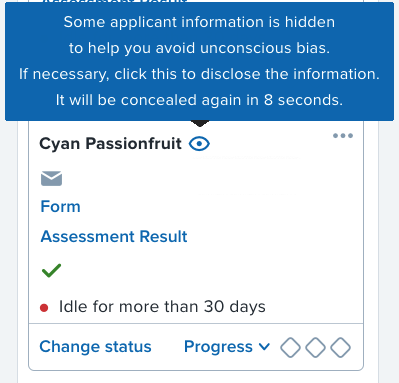 In phase 1, we're providing users with a basic redacted resume that removes a candidate's name and email address. PageUp user experience research found hiring managers still rely heavily on the resume. In fact, it is consistently the top action that our users perform on the applicant progress board. Under consideration for phase 2 is an advanced redaction service that can remove company names, institutions and much more.
What next?
We'll be working closely with clients over the coming months to pilot anonymisedanonymized screening on specific recruitment processes. If you're interested and a client, reach out to us through your Customer Success team. If you're considering using PageUp as your ATS, you can request a demo and we'll walk you through the platform in real-time.
You can find more about the tools we have to support your DE&I strategy here.
The post <span class='content_au'>Prioritise</span><span class='content_us' data-nosnippet>Prioritize</span> your DE&I efforts: PageUp Introduces <span class='content_au'>Anonymised</span><span class='content_us' data-nosnippet>Anonymized</span> Screening appeared first on PageUp.